Climate change, 'faulty' farming hit beekeepers
By Alexis Hooi and Wang Xiaodong | China Daily Global | Updated: 2019-10-28 09:49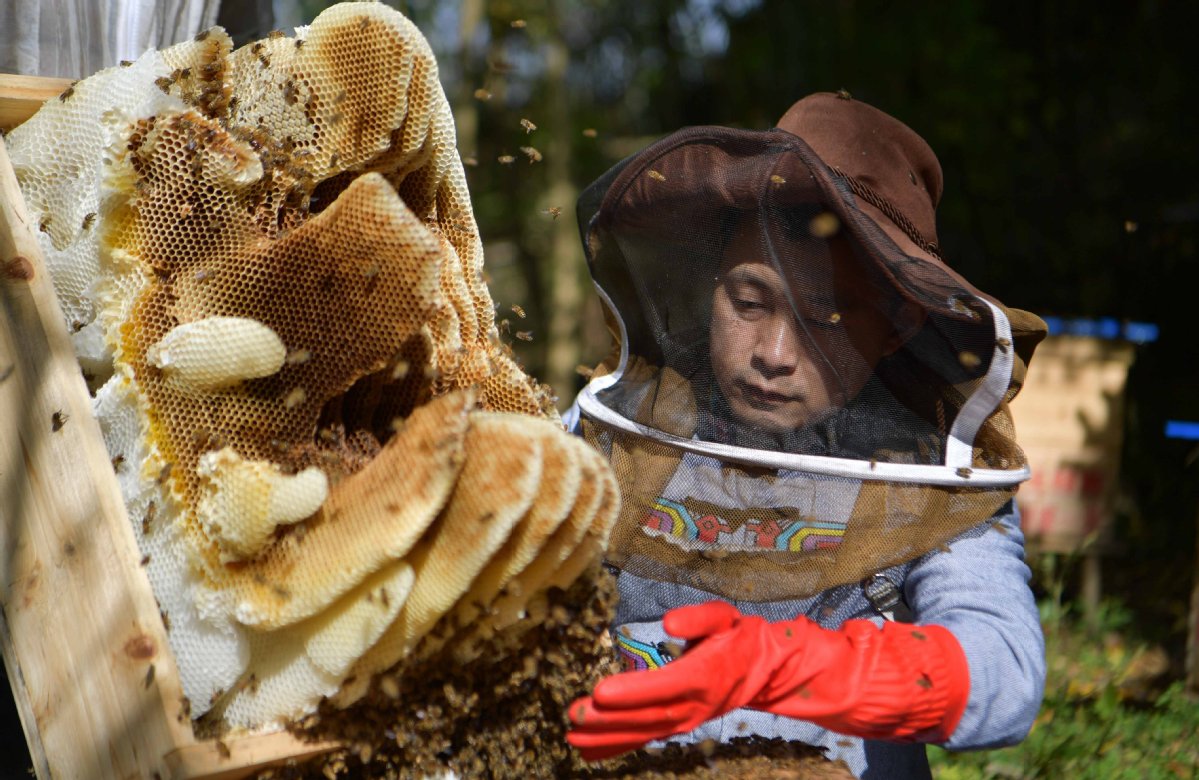 For much of the year's warmer months, Qi Donghua spends his time in a makeshift tent below the scenic mountain ranges northwest of Beijing.
But Qi, 52, is not one of the backpacking urbanites swarming the verdant valleys to escape the buzz of the capital. Instead, he is on his toes tending to the 50 beehives that produce the honey he sells for a living.
"It's a tough life, but nothing compared to the honeybees doing most of the work. They are very precious, and very fragile to any changes in the environment," Qi said.
Qi is one of the many local beekeepers at the base of the Chinese apiculture industry who is increasingly worried about any environmental impact and development, such as increased human activity and climate change, on the bee colonies that support the sector.
China is a major producer of honey, with more than 300,000 beekeepers handling more than 10 percent of the world's honeybees by the first half of this decade alone, according to the Apicultural Science Association of China. Honey consumption has also doubled in recent years, with per capita consumption hitting about 300 grams.
But Chinese apiculturists are facing a global "anti-pollination" impact that is estimated, according to a major industry report, at up to $577 billion in annual losses in worldwide crop production.
Marked declines in wild pollinators such as bees in recent years have been recorded, according to a report involving the United Nations Environment Programme and Intergovernmental Science-Policy Platform on Biodiversity and Ecosystem Services, an organization established to improve the interface between science and policy on issues of biodiversity and ecosystem services.
Factors behind the change include pesticide risks through a combination of toxicity and exposure levels, with insecticides shown to have "a broad range of lethal effects on pollinators, such as bees".
Beekeeping continues to be an important source of rural income and the honeybee is the world's top managed pollinator, with more than 80 million hives producing about 1.6 million tons of honey annually, the report said.
In many areas across China, the number of wild bees has been declining in recent years, largely due to habitat loss and environmental degradation amid increased human activity, said Hou Chunsheng, a researcher at the Institute of Apicultural Research, under the Chinese Academy of Agricultural Sciences.
"Diseases have been the top cause for the fluctuation of bee colonies in many places," Hou said.
"We receive telephone calls almost every day from beekeepers across China, reporting the 'sudden death' of entire bee colonies they raise, or other strange phenomenon, such as how their bees cannot fly anymore and can only crawl on the ground. We suspect that viral diseases and intensive modern agriculture, which focuses on just monoculture crops in an area, are the major culprits."
"In the wild, bees feed on a variety of plants, which keep them in good health. But when their only food source is a single plant, such as sunflowers, their immune system will weaken, and they will be prone to viruses and diseases," he said.