Clashes as Barcelona protests turn violent
By JONATHAN POWELL in London | China Daily Global | Updated: 2019-10-28 09:43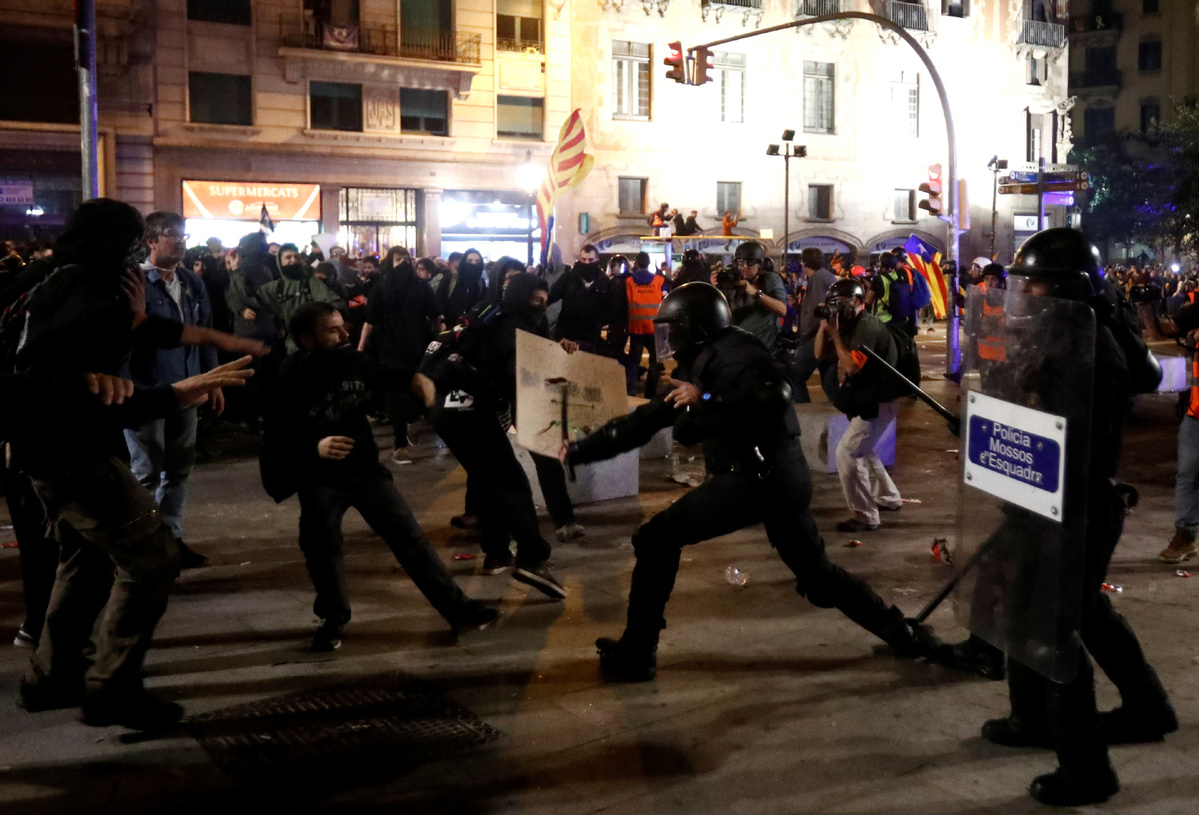 Pro-independence demonstrations turned central Barcelona into a battleground on Saturday evening when militant elements of a direct action group clashed with police in the streets close to the police headquarters.
Projectiles were fired, at least six people were hospitalized with injuries, and barricades were set alight after officers charged ranks of masked demonstrators.
Barcelona has witnessed daily pro-secession protests, and nightly clashes, since Oct 14, when Spain's Supreme Court sentenced nine politicians and activists to up to 13 years in jail for their role in a failed independence bid in 2017. This prompted widespread anger in the region and has sent shockwaves through Spain's political landscape.
More than 600 people have been injured in the protests, 367 of them civilians and 289 police, official figures show.
Reuters reported that this protest was organized by Comites de Defensa de la Republica, or CDR, a pro-independence pressure group that favors direct action. The group gathered at both ends of Gran Via, a city center road, cordoned off by dozens of police vans and officers, some equipped with weapons carrying rubber and foam bullets.
The violent standoff shows the split between hardline and conciliatory elements within the region's independence movement.
Earlier in the day, around 350,000 people had rallied in downtown Barcelona, turning the streets into a sea of fl ags in a mass protest against the jailing of the nine.
The main daytime rally of 350,000 was called by the Assemblea Nacional Catalana, or ANC, and Omnium Cultural, the region's two biggest grassroots pro-independence groups, which have organized some of the largest separatist protests in recent years.
"From the street we will keep defending all the (people's) rights, but from the institutions we need political answers," ANC leader Elisenda Paluzie told the gathering, pledging to organize more protests.
Both ANC and Omnium Cultural eschew violence and their then-leaders were among the nine jailed.
Reuters reported many who joined their march carried banners bearing slogans that included: "Prison is not the answer", "Sit and talk" and "Freedom for political prisoners".
In the front row was regional government head Quim Torra, who earlier presided over a ceremony at which hundreds of Catalan mayors endorsed a document demanding self-determination.
"We have to be capable of creating a republic of free men and women... and overcoming the confrontational dynamic with a constructive one," he told them.
One marcher, Francesc Dot, 65, said the nine leaders had been jailed in defense of "Spain's unity".
His wife, Maria Dolors Rustarazo, 63, said she should also be in prison because she voted in the 2017 referendum, which Spanish courts outlawed. "If (all separatist votes)... have to go to jail, we will go, but I don't think we would all fit," she said.
Catalans remain sharply divided over the question of separating from Spain, with polls showing 44 percent in favor and 48.3 percent against.
Mainstream Spanish parties, including the minority Socialist government, have consistently rejected moves toward Catalan independence and all except for the left-wing Podemos are opposed to any form of referendum. They are now gearing up for a national election on Nov 10.